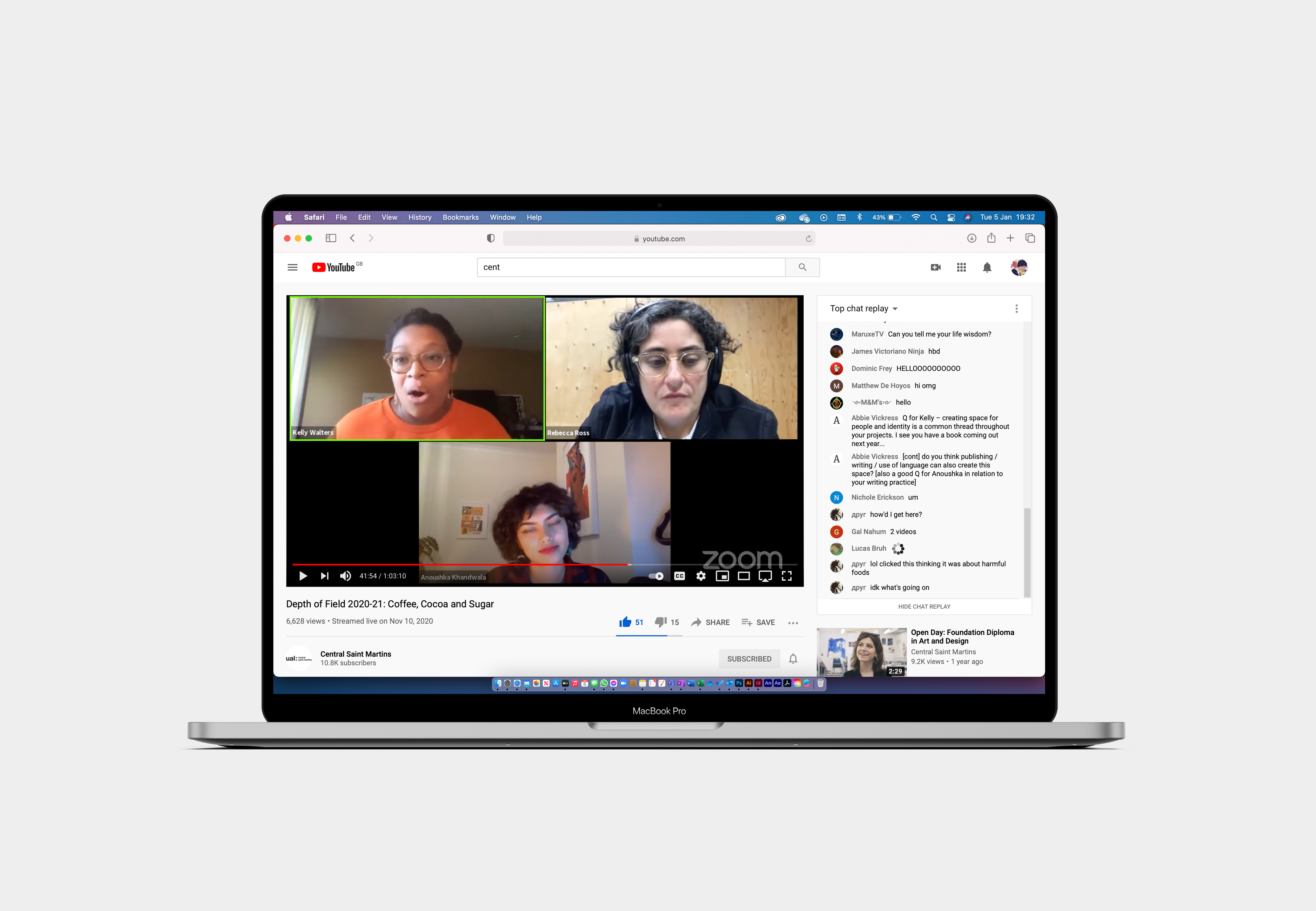 Social media marketing / Public view of the live-streamed lecture / Accompanying website
Depth of Field 2020-21.

An online public lecture series that aims to question some of the most prevelent issues faced within the Graphic Communication Design industry. Coordinated by myself and others, we invite two guest speakers to present their unique perspectives and engage in a live Q&A discussion. The 2020/2021 series included speakers such as Kelly Walters and Gemma Copeland, in addition to organisations such as NASA Jet Propulsion Laboratory, Climate Outreach, Design Observer and Thames & Hudson.

This project could not have happened without Rebecca Ross (Project Leader), Jacob Watmore (Events Coordinator), and Jake Dow-Smith (Web Designer).

2020 - 2021
ONLINE LECTURE SERIES
ROLE: ASSISTING COORDINATOR
Lecture with NASA JPL and Climate Outreach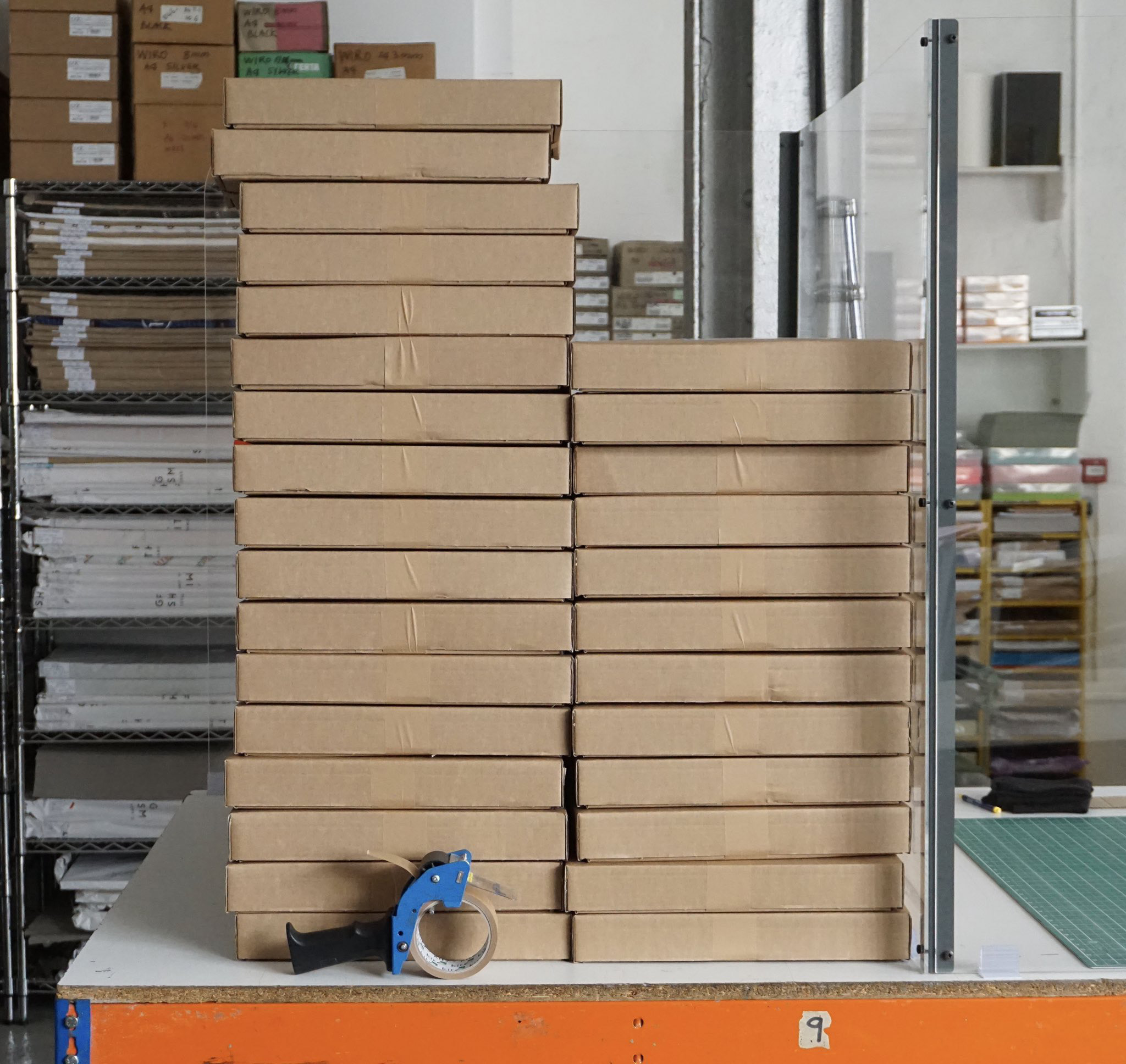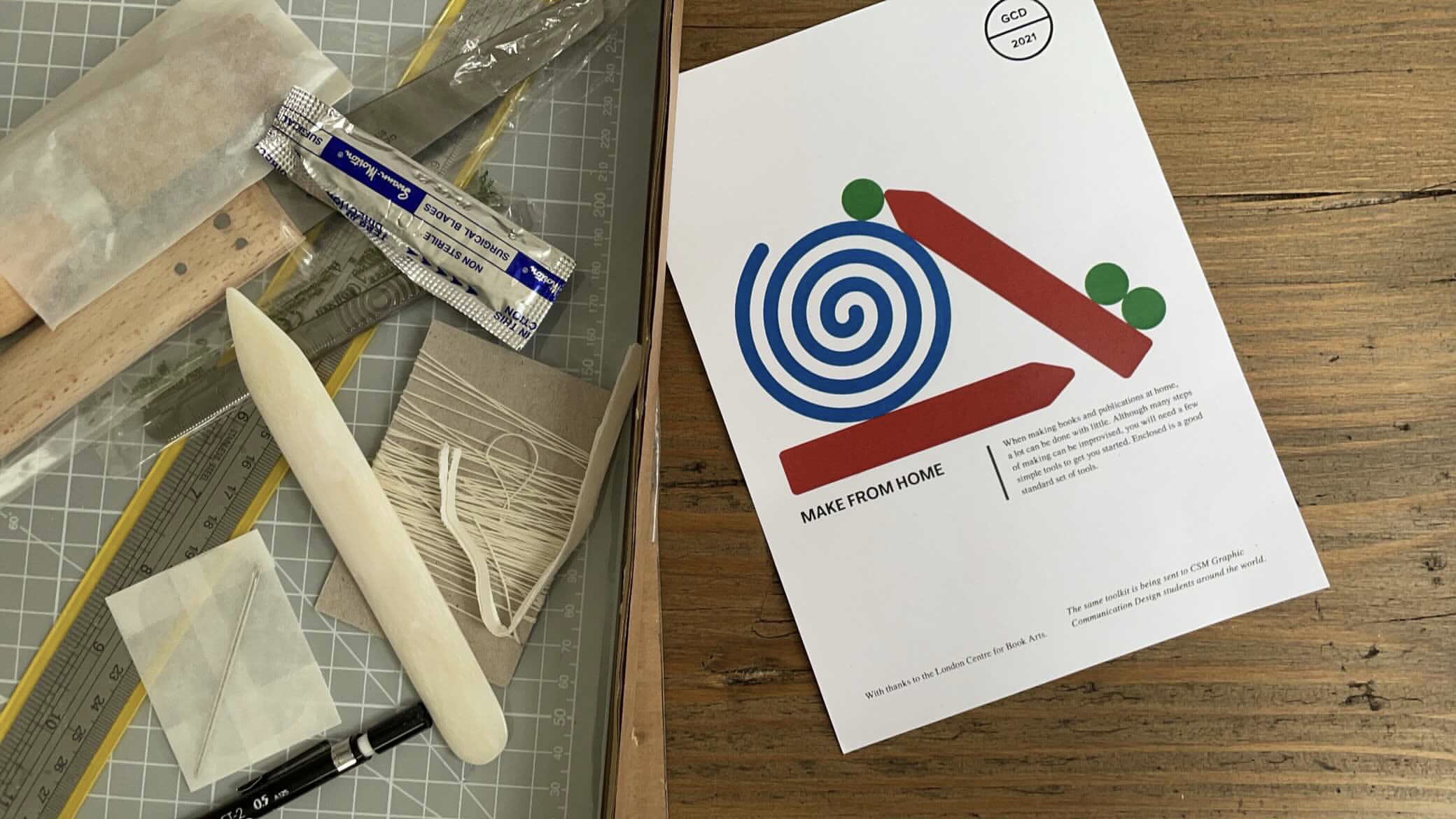 Top image credit: London Centre for Book Arts
Make From Home.

As a Central Saint Martins graduate, I was asked to design a small handout that would be distributed to Graphic Communication Design students alongside a selection of provided tools and equipment. The design uses abstract shapes that represent the contents of the toolkit. The use of colour, shape and gravity suggest a sense of playfulness in keeping with the nature of Make From Home and the equipment included in the initiative.

2021
PRINTED HANDOUT
148 X 210 MM
PRINT RUN OF 550
ROLE: DESIGNER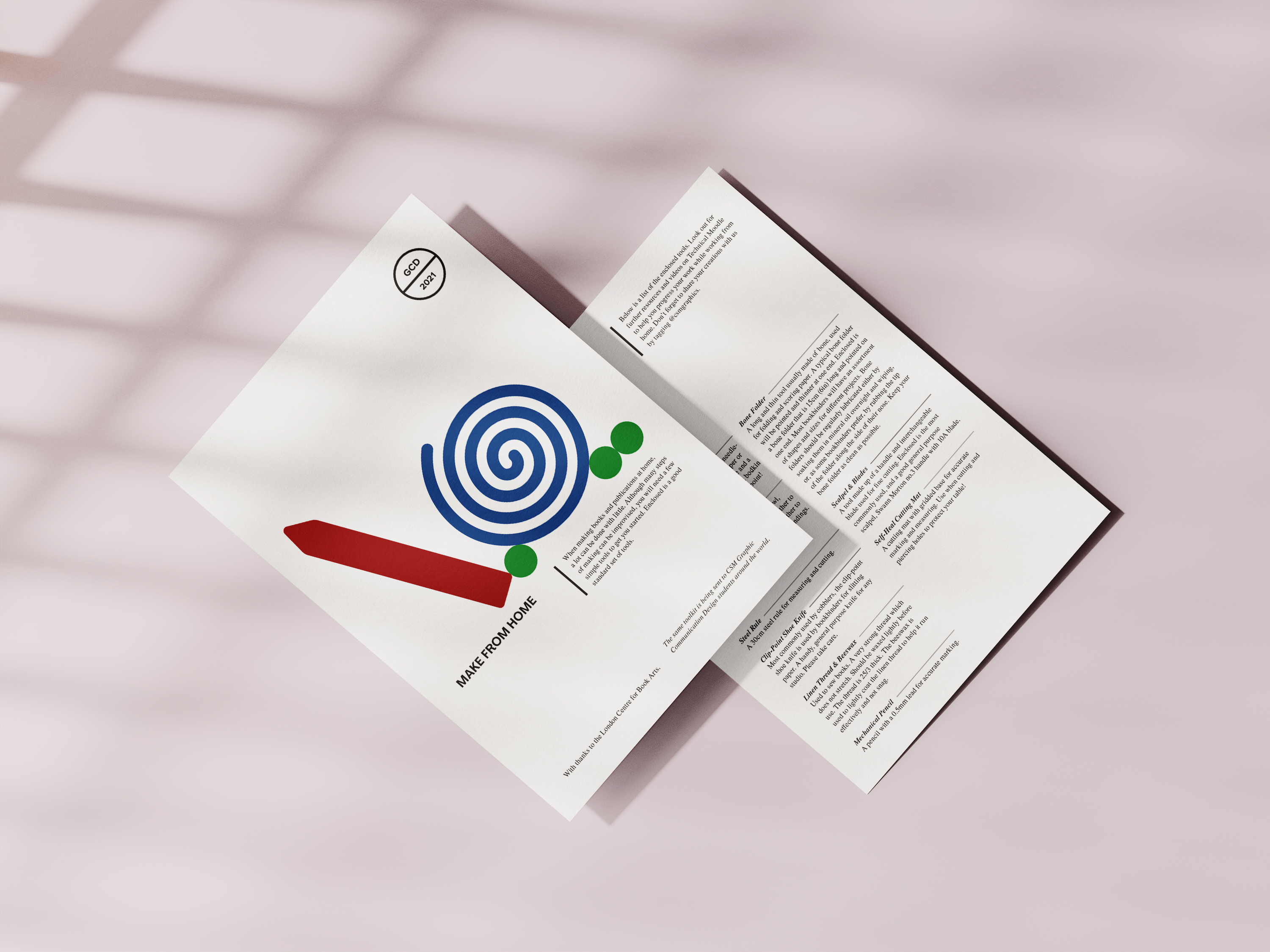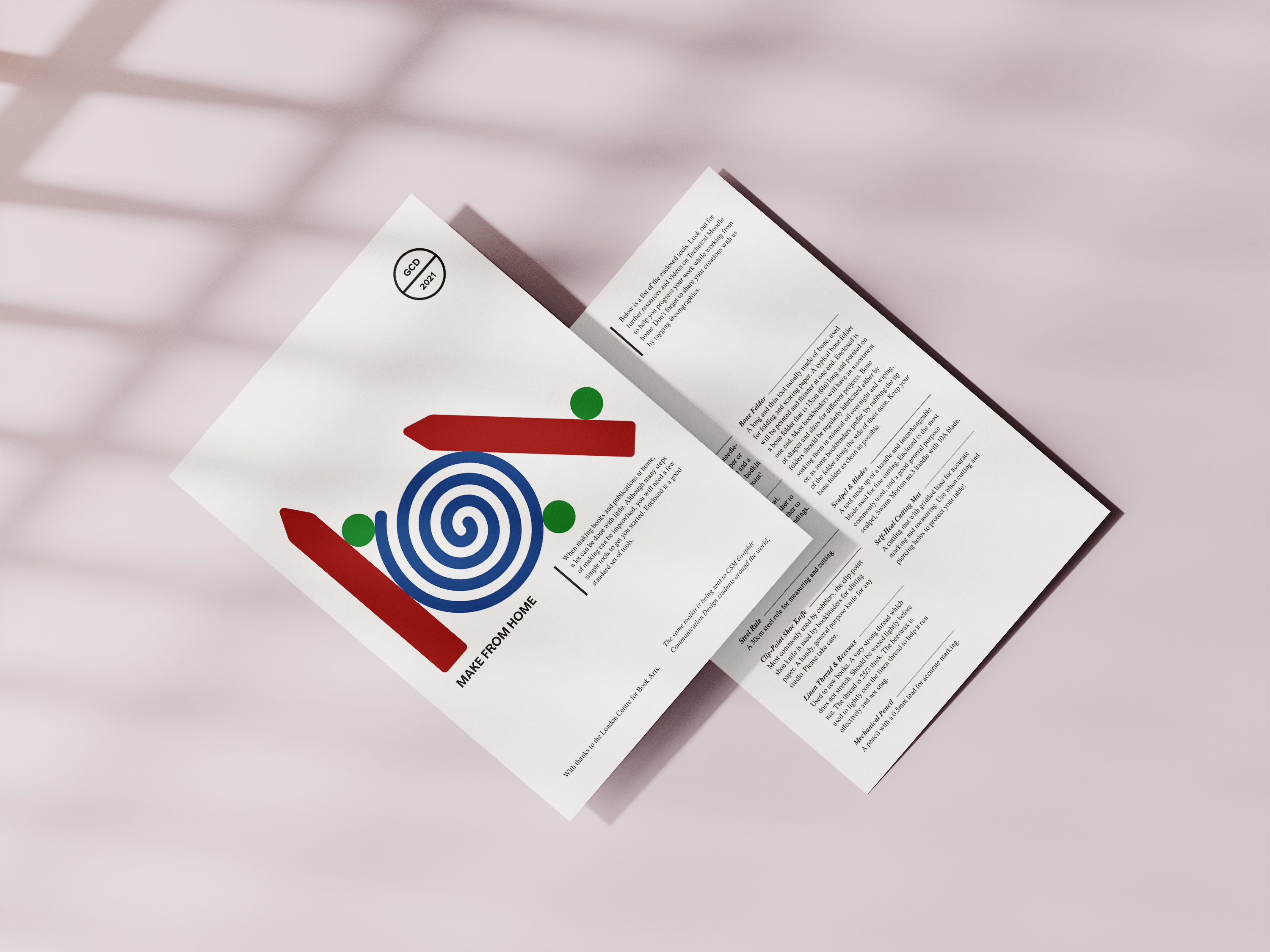 A5 flyer (front and back). Including information about the scheme and contents page
Front cover of Playground / Mixed Pickles activity page spread
Mixed Pickles.
Inspired by historical documents from Jewish refugee camps, this page-spread and activity encourages a therapeutic writing exercise aimed at vulnerable families. Born out of a collaboration between Knowledge Quarter and The Wiener Holocaust Library, the project was included as part of Playground; an annual zine in which I also contributed to the design and manufacture.

With thanks to Sam Oates, Barbara Warnock, Yukari Ono and Abbie Vickress.

2020
PAGE SPREAD / ACTIVITY
176 X 250 MM
ROLE: DESIGNER
Example of activity card / Assembly instructions
From the Story Garden.
Yukari Ono and I collaborated with Make @ Story Garden and Global Generation in the development of a visual language and brand/identity for this London-based community outreach initiative. The campaign, headed by a small public garden centred in the Kings Cross area, was launched as a response to the COVID-19 lockdown. The initiative aimed to bring the garden into the homes of vulnerable families; providing light entertainment and healthy exercises.

With thanks to Yukari Ono (Co-Designer), Georgia Jacob, Martina Mina and Kiloran O'Leary.

2020
IDENTITY / POSTER / ACTIVITIES
POSTER: 297 X 420 MM
PRINT RUN OF 50
ROLE: DESIGNER
Poster design / Folds to create a Japanese style envelope for delivery into local residents' homes
GCD Newsletter and announcements on various devices
GCD News.

Operating within the Graphic Communication Design programme at CSM, I produce announcements and weekly newsletters that are distributed to a mailing list of students, alumni, staff and industry. Curated and edited by myself, the newsletter traditionally includes highlights, events, opportunities and news stories.

2020 - 2021
NEWSLETTER
VIA MAILCHIMP
ROLE: RESEARCHER / WRITER / EDITOR